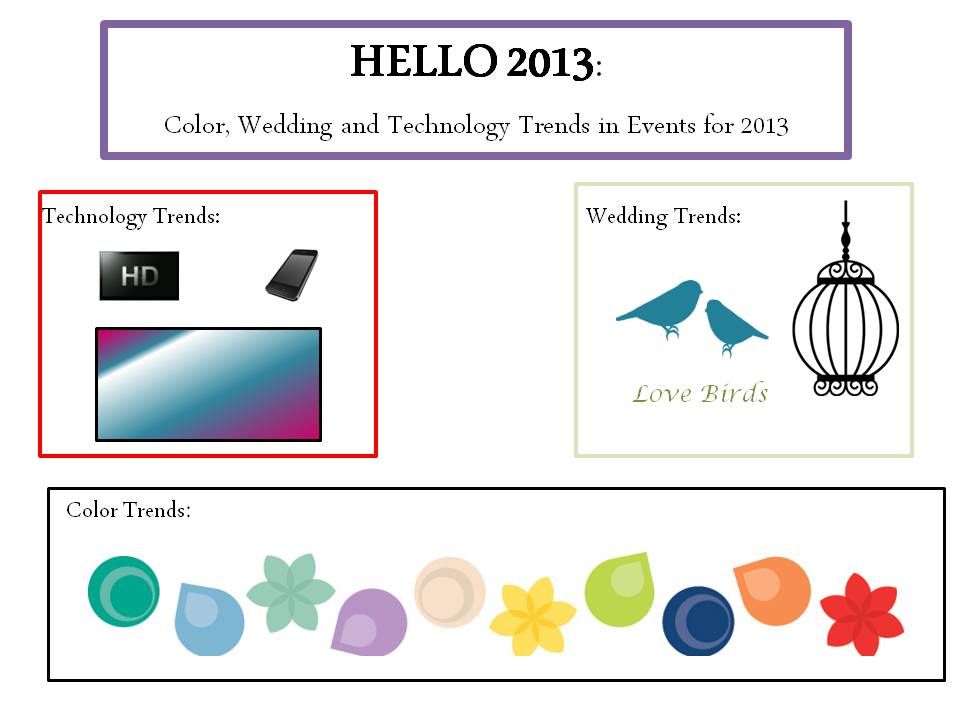 The New Year is fast approaching.  In the event planning industry that means it's time to start thinking about the upcoming trends.  As an event planner it is crucial to stay on top of trends.  Large events are planned months and even years in advance and as an event planner you do not want the client's decor and entertainment to be out of date.  Color is used in all types of special events: weddings, Bar/Bat Mitzvahs, anniversary and birthday parties, tradeshows, corporate events and non-profit events.  Color is a trend that changes every season and every year.  There are also some newer technology trends coming into the market that will not be changing every year or every season.  These trends are making events more enjoyable, giving event hosts the ability to reach new cliental, and providing a more interactive experience for event attendees.
Each Fall and Spring, Pantone the leading authority in color, comes out with the upcoming season's color trends and announces the hot colors for the year. Pantone suggests that Poppy Red, Monaco Blue, Grayed Jade, Tender Shoots, Lemon Zest, Tidal Foam, Emerald, African Violet, Dusk Blue, Sunflower, Linen, and Alloy will be colors to use in 2013.  It's not only about those shades occurring in trend now but how they have changed over the seasons.  Blues are turning away from the watery hues of the past and becoming more of a basic building block, assuming the role that black used to play. Color seems to be touching everything, even neutrals like sand and beige. Neutrals have transformed and the new calling is for basic tones that are shaded and imbued with peaceful and beautiful color. Brights continue to evolve as they are paired together or weaved into larger groups, exuding drama and newness. 
Along with colors we are seeing other décor trends pop up onto the wedding event trend forecast.  Weddings are becoming more personal and will be characterized by romanticism, vintage, and the 1920's.  Bird wedding themes are back in style and will be one of the 2013 wedding trends. We will see charming little nests, vintage inspired bird cages and pretty birds from all flocks of life in 2013 wedding decorations and wedding fashion kamagra 100mg tablets.
Technology is also playing a big role in the event trend industry for this upcoming year, technology has the ability to advance and change the face of your event.  Google spreadsheets (spreadsheets.google.com) can be used to track your event details in a visible document that is usable by dispersed event planning teams (including your suppliers).  RM Creative Events Management, Inc. has created an electronic planning workbook for their weddings and bar/bat mitzvahs clients, giving clients and easy to use format to keep all planning information in one place that can be easily shared with their event planner.  
For corporate events and tradeshows, event hosts can log-on (www.log-on.nl) and the guests can use their mobile phones to view tradeshow and event applications for attendees including: the event agenda, product directories, event feedback and surveys, polling, announcements, networking, travel information, and more.  The only issue we have seen with this is not everyone has a smart phone, event hosts need to make sure to have print out's available or another way for all attendees to access the information.
The usage of flat-panel screen TVs for your electronic signage helps eliminate "sign-clutter".  Also, converting your event program into digital form, allows you to loop your program on the electronic signage, eliminate the expense of producing paper programs and waste.  Using the electronic signage is an easy way to add more color to the room. Some audio visual companies have developed a way to merge two or three projection screens together and have them display a single image but allow the images to change on any of the screens without the audience realizing the different screens. The new projection technology can jazz up the look and feel of the event.
Now more than ever people are relying on Special Event Planners to coordinate and execute their events. The trend of event coordination is becoming bigger than ever.  With everyone's busy schedules and hectic lifestyles it makes sense to hire RM Creative Events Management to plan and manage your event for you.  We are in the know of what will be trending for the upcoming year, whether it's color, fabric, venue spaces, technology, entertainment, invitations and more. RM Creative Events can make planning your event less of a hassle, and we can create a simply elegant event.
Here is a visual that shows how RM Creative Events would use the new projection image technology and to show you how it helps add color to the event space.